#82: Walk on the Wild Side
---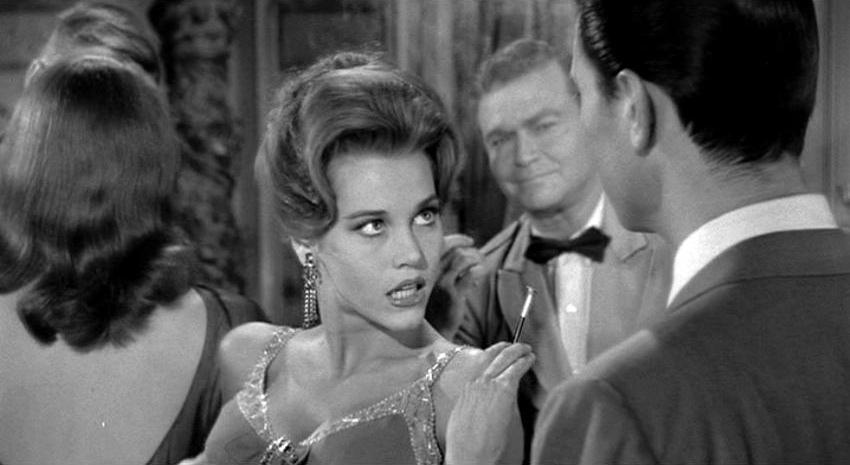 (USA, 1962; dir. Edward Dmytryk; cin. Joe MacDonald)
IMDb

Edward Dmytryk's Walk on the Wild Side is two of the best kinds of movie rolled into one, and the joy as well as the critical trap of the movie is that you cannot fully tease apart its dual identities. On the one hand, this is grade-A, succulent, blood-leaking, lip-licking trash, the kind of movie where flat, funnel-faced Laurence Harvey (of all people!) plays a prodigal Southerner named Dove Linkhorn (of all things!) on a Sweet Bird of Youth errand to retrieve the dazzling girlfriend who got away. In Sweet Bird, this character's name is Heavenly. Here it's Hallie, and she's played by the single-named Capucine, taller, more knowing, and darker in every way than Shirley Knight. Hallie's working under the thumb of New Orleans brothel madame Jo Courtney, who rules everything with an iron glove, a steel glare, and the chic accessory of a legless henchman. The only thing she can't govern is her lesbian infatuation with Hallie, which often leads her, even though she's played by Barbara Stanwyck in full-tilt mountain-lion mode, to drop her guard and question her own instincts. In addition to Harvey's narcissistic and angular knight, Capucine's passive and willowy vixen, and Stanwyck's high-strung yet coolly confident despot, we've also got Anne Baxter playing a Mexican with a roadside chili stand, Imitation of Life's Juanita Moore tending kindly to the working girls in their open-air courtyard, and Jane Fonda setting off small earthquakes of pure, insolent eroticism as Kitty Twist (!), the starving hitch-hiker whom Dove Linkhorn (DOVE! LINKHORN!) scrapes up on his way to the Big Easy and then ditches once he's in town... only to see her end up... exactly where you're guessing.

You haven't guessed everything, though, not the slithery curves and potent confrontations in the narrative, and certainly not the pert, moody, remarkably sincere emotionalism of all of the key performances—excepting, of course, Harvey's. Walk on the Wild Side was the movie that yielded Jane Fonda's immortal quip, "Acting with Laurence Harvey is like acting with yourself, except worse," but when Harvey was cast to take advantage of his hateful, plasticine indifference to others, the results could often be fine. Plus, without a male co-star to steal their thunder or even distract their attention, Capucine, Stanwyck (gloriously), Fonda (pre-eminently), and even the bizarrely cast but affecting Baxter are freed to relate in depth to their own characters and motivations—a luxury that few dramatic roles for women really afford. They also, when the plot allows, relate in fascinating ways to each other, as in the tense and sizzling scenes between Capucine and Stanwyck, little operatic duos of rivalry and tenderness and jagged recrimination between a velvety soprano and the mezzo who hates her and loves her and hates to love her. All of which is to say nothing of the loping, febrile Elmer Bernstein score, or the sets that strike the perfect balance between tawdry and elegant, or the sleek black-and-white photography by Joe MacDonald, or the Tod Browning way in which whole groups of malefactors start pouring into the frame when it's time for some stark dramatic vengeance. The brightest of the jewels that I can only hint at here is that opening Saul Bass credits sequence that gets more cinematic punch out of one black cat with a chip on its shoulder and an alleyway nemesis than a lot of movies get out of their whole studio-issue parade of talent and money.

What I'm getting at is that Walk on the Wild Side does a stunning, sexy impression of a junk movie that's basically full of shit, and I'm sure it can be ripely enjoyed on these saucy, skin-baring, disguisedly sentimental terms. Not every movie with dreams of drive-in necking sessions or midnight-movie revival showings is able to hold itself together as tautly as this one does, nor with the same steady velocity of indecent pleasures and nutty lines of dialogue and high-pitched arguments and blowzy, French-quarter existentialism. The critics in 1962 certainly didn't care much for it, and fans of Nelson Algren's novel usually rush to disparage the adaptation. But if you ask me, Walk on the Wild Side is also a sterling exemplar of the superficially "bad" movie that's actually, electrically alive, and better for that reason than a lot of safe, classical, abashedly "good" movies. I almost never want to budge the camera or alter the pace, I relish the sophisticated blend of autocratic rule and naughty, laissez-faire contentment that seem to waft around the brothel, and I would kill for any number of higher-priced and haughtier movies to look or sound this terrific. The odor of wreckage and ruin only makes the film more interesting—Dmytryk's career hobbled by the blacklist, Harvey who died so early, Capucine who died by her own hand, Stanwyck emitting a dialectic of sapphic desire and furious rage that's hard not to take as deeply personal—but because the filmmaking is so strong, the extra-curricular echoes of decadence and dilapidation only heighten the movie's interest, instead of eclipsing it or (worse) substituting for actual interest. Pleasure, excitement, inspiration, risk, absurdity, lust, and scandal: they're all here, lurking inside and slinking around the actual text, not just its biographical history. They're ready to be tasted, ready to be rolled around your tongue, ready to be taken for a quick, disreputable, deliriously satisfying roll in the proverbial hay.

---