#97: The Piano Teacher
---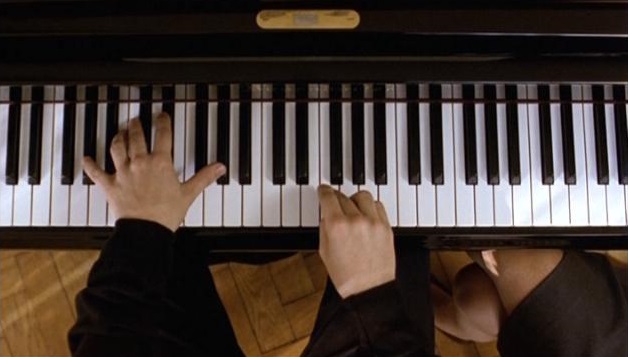 (France/Austria, 2001; dir. Michael Haneke; scr. Michael Haneke; cin. Christian Berger; with Isabelle Huppert, Benoît Magimel, Annie Girardot, Susanne Lothar, Anna Sigalevitch)
IMDb // My Page

Nothing like The Piano Teacher to get this list off to a savage start, proving that just because I love a movie enough to include it on a list of personal causes célèbres doesn't mean that it's easy to snuggle up to. I am a sucker for razor-sharp formal control, and The Piano Teacher certainly has that, freezing the camera at moments that are just as difficult and unexpected as the furious violence, emotional and otherwise, that often engulfs its three major characters. I always go in for conceptual dramas, and the way Haneke wrests a bold meditation on music and a cultural snapshot of Viennese schizophrenia out of this scalding character study is a subtle and breathtaking achievement. I am a pushover, apparently, for movies about pianos. And, just as obviously, I relish nothing more than watching any world-class actress tearing into a complicated part, and the ferocious precision of what Isabelle Huppert concocts here—vengeful, expert, supercilious, tamped-down, lonely, and volcanically perverse—is something that no other actress in years has equalled. (Most actresses could wrangle with this script for a decade and be too shallow or else too shy to forge the Erika Kohut that Huppert uncovers.)

In combination, these separate marks of the film's distinction yield images and sequences so blunt and shattering in their affective immediacy that the film is that rare thing—literally unforgettable. I do not have the greatest memory in the world, but at the level of individual scenes, The Piano Teacher finds a needle-sharp line right into the mind's cradle. Here is Erika, punishing a promising student with a grotesquely planted ambush of broken glass. Erika, abjecting herself for sexual attention on tile floors, and abandoning herself to ecstatic violence in her own apartment. Erika, her face tight and austere as a hangman's rope, withering in her estimation of her pupils' musical abilities. Erika, ducking into a viewing stall for a quick, hot dosage of the kind of pornographic voyeurism that Haneke himself keeps threatening but miraculously avoids. Penultimately, Erika, literalizing the wounds of her heart in one of the most shocking close-ups I've ever witnessed, capturing Huppert in a look of raw agony that is utterly, irreproducibly her own. And lastly, the music hall, the performance space, the indifferent scene of a death or a near-death, a massive edifice that Haneke has taught us over two hours to read as both an emblem of trained sophistication and an altar to the obscene. The Piano Teacher, so justifiably proud of its performances, is nonetheless bigger than all of them. It is a film of Artaudian cruelty, and a boundary-breaker in the cinema's exploration of its own erotic and artisanal id.

---