#28: Late Marriage
---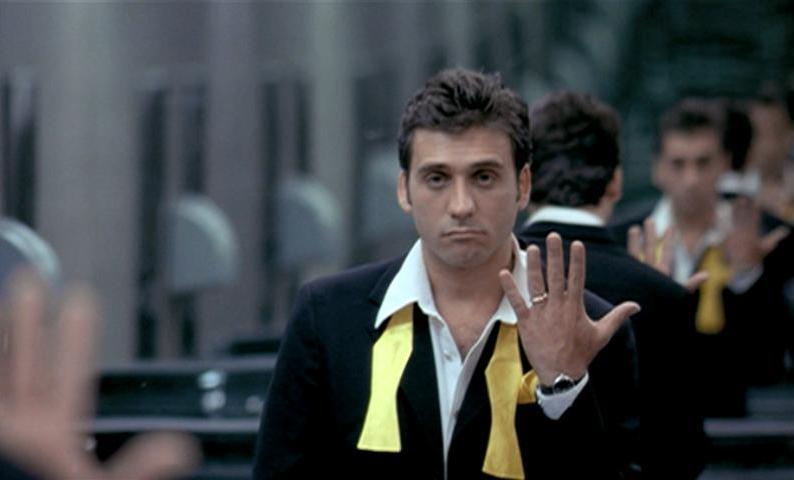 (Israel, 2001; dir. and scr. Dover Kosashvili; cin. Dani Schneor; with Lior Ashkenazi, Ronit Elkabetz, Moni Moshonov, Lili Kosashvili, Simon Chen, Lilia Chachmon Ayaliy, Eli Turi, Sapir Kugman, Aya Steinovits Laor)
IMDb // My Page // Leave a Comment

Viewers who avoid foreign-language films are almost always overestimating the "foreignness" of these movies. C'mon, people, live a little! Push that envelope! But then again, a less widely acknowledged truth of film spectatorship is that viewers who consume a regular diet of foreign-language films, those of us who cannot possibly imagine why it's so distracting to read subtitles, are often underestimating the foreignness of these movies. Occasionally something as bizarre as Tropical Malady or Taxidermia, or a film from a culture as cinematically underrepresented as Afghanistan's or Mali's or the Inuits', emerges on the global market to underscore how very different other aesthetics, other imaginations are from one's own. But often the specificity and unfamiliarity of a film is subtler than this, and if the film is successfully radiating a sense of universality, its uniqueness and idiosyncrasy can go unnoticed. For example, the second time I saw Late Marriage in the theater, I went with an Israeli friend who gave more complete translations of the dialogue than the subtitling did, who handily clocked when the characters shifted between Hebrew and Georgian, and who invoked all sorts of cultural associations that shaped the way he watched the movie—which played, for him, as much more of a comedy than it did for me. He clued me in that Moni Moshonov, so compelling here as Yasha, the charming but exasperated father of a 31-year-old son who won't accept any of the marriages that his parents and their friends arrange for him, is known primarily in Israel as a cut-up comic performer. While Ari admired Moshonov's dramatic change of pace, he also kept laughing at half of what Yasha said and did, and reacting to inflections and rhythms in Moshonov's line readings that I obviously have no idea about. His sense, true or not, that Georgian immigrants were often stereotyped in Israeli culture as the butt of ignorant jokes, the way "Pollacks" often were among the kids I grew up with (even though none of us actually knew anyone from Poland), brought a dimension of ironized comedy to the Georgian characters' insistence that nobody else was good enough to marry into their clan. He howled at the loutishness of the hirsute, cigarette-smoking troll whose wife is washing his hair for him at the beginning of the movie, and at Lili's co-optation into her friend's superstitious advice about leaving a piece of her son's foreskin beneath the bed of a prospective wife, to ensure the eventual match.

Even given its stripped-down style, the simply but sharply drawn characters, the bluntness of its sexual scenes and of its dramatic narrative turns, Late Marriage is apparently much more than meets the eye, or the English-speaking ear. I love knowing that even a familiar object contains so many unaccessed depths and complexities, but you have to hand it to writer-director Dover Kosashvili that his peculiar naturalism never pretends to be spelling out all of the meanings in the story or the currents between the characters. The long dialogue scene between the unmarried son Zaza (Lior Ashkenazi) and Ilana (Aya Steinovits Laor), the appreciably younger girl with whom he's been set up, is a taut, punchy dance between two obviously intelligent people, she a little contemptuous of his fratboyish flippancy, he a little smug in cutting the figure of the book-smart, non-conformist free agent. Near the end of their scene, Ilana pulls out her portfolio of design sketches, featuring several sleekly drawn women in states of modish dress and undress, and she and Zaza exchange looks and pert, one- or two-word remarks. Late Marriage suggests here that Ilana might be a lesbian, and even less interested in this marriage than Zaza is; or that her artistic talent and career ambitions make Zaza, still a student at age 31, too pathetic a figure for her to align herself with; or that she's expressing some mixture of these messages that Zaza simply isn't getting, though he pretends to, or some unspoken alternative to all of these logics, which none of us are getting. Nothing in the filmmaking or the performance styles flags the scene as determinedly ambiguous, but the writing, acting, and directing are so rich with off-rhythms and implications, and the whole scenario mitigates so strongly against people's likelihood of fully speaking their minds, that Late Marriage makes even this expository scene rife with suggestive power.

We never meet Ilana again, but the whole movie continues to operate consistently with this flavorful, funny, unsettling appetizer course. Scenes complicate or transcend the boilerplate story beats they seem plotted to fulfill. Attraction and repulsion, as well as their sibling forces of affection and frustration, overlap in myriad ways that make everyone's lives tougher, funnier, and more interesting. The mise-en-scène maintains a vivid attachment to sharp lines and bright colors—the yellow accents on Zaza's tuxedo, the white and red slip-dress Ilana wears to meet him, the parti-colored apartment where Zaza visits his secret lover Judith (Ronit Elkabetz)—that contributes to the generally heightened reality of the piece while also making it sensually vivid in a way the modest camera set-ups otherwise wouldn't. Dramaturgy alternates, sometimes on a dime, from the casual ease of Zaza's scenes with Judith and her daughter to the sinister ritualism with which Zaza's extended family intrude into the apartment to the grippingly dilated reality of Zaza and Judith's love-making, amidst which Judith reveals a secret that ironically invites comparison to the character who is her most formidable antagonist. That said, Late Marriage evinces a gift for avoiding one-dimensional portraits of its characters' mentalities or their capacities for empathy, even as it pulls no punches about the coercive, sometimes bitter power of tradition, family, and cultural allegiance. The final sequence, joining an outlandish encounter between father and son in a bathroom and a nervous, painful, but outwardly boisterous public ceremony, is a marvel of a conclusion, crystallizing everything funny, everything sad, everything skeptical, and everything wise about the film. Whether or not a non-Georgian or non-Hebrew-speaking viewer is catching every byte of communal and ironic data, the humor, rue, and emotional arcs of Late Marriage have the lucidity and saber-edged power of a Flannery O'Connor or a Raymond Carver story, give or take their own very particular regional and spiritual milieus. I can't think of anyone I know who wouldn't find themselves pulled into Late Marriage. Meanwhile, Kosashvili, whose career stayed surprisingly mum after this attention-getting bow, finally has two projects nearing completion, and after many, many trips through Late Marriage, I can't wait to get pulled into those.

---