#29: Howards End
---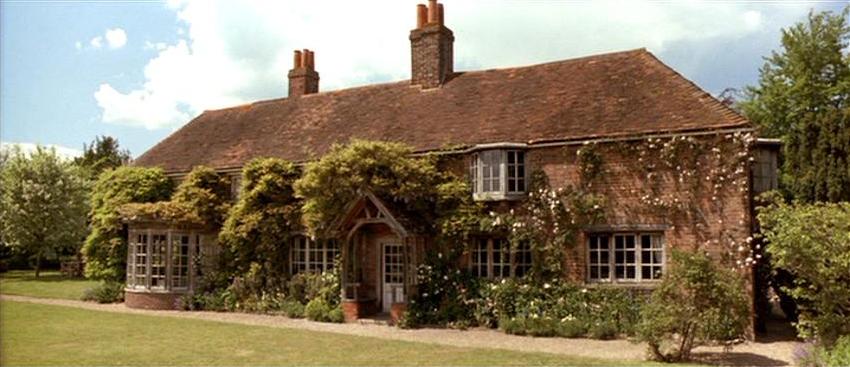 (UK, 1992; dir. James Ivory; scr. Ruth Prawer Jhabvala; cin. Tony Pierce-Roberts; with Emma Thompson, Helena Bonham Carter, Anthony Hopkins, Samuel West, James Wilby, Vanessa Redgrave, Nicola Duffett, Jemma Redgrave, Prunella Scales)
IMDb // My Full Review // Leave a Comment

Ruth Wilcox, embodied by Vanessa Redgrave with full-tilt mystique and ethereality, wanders in the gloaming around the grounds of Howards End, her beloved country home. She looks as beautiful and as delicate as wisteria, the back of her dress dragging through the wet grass. The light and the texture of the image are so beautifully calibrated that the screen is almost aromatic. She's just ambling, distractedly touching her shoulder and her necklace, with a touch of uncertainty in the way she moves, and yet this is enough to constitute one of the quietest, most indelible opening sequences in the last two decades of adult dramas on film. In one sense, it's also the last moment of total tranquility in this very plotty story, though the peculiar, cloudy frown on Ruth's face is enough to signal that not everything is perfectly tranquil, not even here. The perfume of personal unease drifts underneath the comic setpiece that follows—an engagement established and swiftly broken, an abrupt visit from an agitated relative, a confusion of brotherly identities. It lingers even around the toothy, gregarious ebullience of Emma Thompson's Margaret Schlegel, who arrives to suggest a gravitational center for the film, although her sister Helen (played by Merchant-Ivory axiom Helena Bonham Carter) tugs the movie back toward herself whenever she appears, as does the dissipating Ruth, as does the nervous clerk Leonard Bast (Samuel West), as does the ornery scion Charles Wilcox (James Wilby). The brooding, hypocritical paterfamilias Henry Wilcox, rather sternly enunciated by Anthony Hopkins, makes a delayed impression and is too cold for the audience to sidle up to, but the film summons even Henry as a complex character, not just an emblem of hardened class positions and dubious prejudices.

It's E.M. Forster's genius to establish a story with so many characters serving as primary engines. But it's the genius of James Ivory's directing, Ruth Prawer Jhabvala's script, Tony Pierce-Roberts's lensing, and Richard Robbins's music (the least fêted but perhaps the most consistent element in the Merchant-Ivory arsenal) to enable each character's rounded, complicated claims on a viewing audience. Howards End is a lushly generous movie, even as it wends its way through a series of decisions by its characters that the audience can't help but second-guess, building toward increasingly certain tragedy. Such generosity, in tandem with the precise, focused screenplay and the steady momentum of the montage, conveys Forster's guiding conviction that the interrelationships among all of these characters provide the emotional and intellectual core of the drama, rather than one lionized figure or one over-arching bit of dogma. No one character is the "heart" of Howards End, nor is anyone the hero. Sympathies and identifications shift and expand, and if the arrogant, territorial Charles is plainly insupportable, the movie has the wisdom and the ability to make his limited, reactionary vision of England a seductive, even addictive fantasy in its own way. You see why Charles wants to live as he does, and why he doesn't perceive the huge tolls that other people pay to preserve and consecrate his way of life. You can see how his imperial, finally bloodthirsty conservatism is not the same as his father's conservatism or his mother's, and none of these conservatisms are equivalent.

Nor is Margaret Schlegel's emancipated liberalism entirely weaned of its taste for money, for masculine authority, or for the accoutrements of the peerage. Leonard Bast is not an abused innocent, or at least he is not only this. Helen Schlegel is both righteous and self-righteous as she bellows out the treacheries of the aristocrats. All of these characters have theatrical flair, and yet all of them are capable of charismatic stillness and silence. The movie's crescendos and declines of action have an almost seasonal rhythm; unlike so many literary adaptations, you actually have a sense of time passing in a worldly way. The text's assertions about social class are convincingly grounded in how the images look, in the outfitting and organization of spaces, in the way people talk and act and move. Howards End commits itself to characterization, not the posterboarding of political arguments, and yet political forces are palpable despite the rich sensitivity and the decorous sensibility of the filmmaking. Even when the movie gets stuck with one of Forster's most literary conceits (the falling bookcase, the deathbed bequest), you believe in the reality of the moments. You also believe that these people's story truly reflects something larger and important about their era and their country.

Howards End is gorgeous, sophisticated, expertly wrought drama, and it's also a hell of a soap. The movie debuted at a time when "Merchant Ivory" felt synonymous with upscale bourgeois filmmaking, and it solidified a trend by which arthouses were as glutted with British heritage pictures as they are today with badly-lit comedies of family dysfunction. Many journalists and spectators believed then or believe now that Merchant Ivory's movies couldn't possibly resuscitate a world like Howards End's without the film somehow miring itself in an antiquated past, or that a movie with such scrupulous costuming and set-dressing couldn't possibly have something to say about those cosmetics, something to offer serious cinephiles beyond carefully aged lace and stiff upper lips. Not that Howards End wasn't a critical and a popular sensation; it opened on one screen in March 1992 and stayed in theaters for almost 18 months afterward. If you want to talk about nostalgia, that's something that could obviously never happen today. But the movie implied its own backlash, and after the following year's lustrous but somewhat mechanical Remains of the Day, you could hear how "Merchant Ivory" came to connote suspicion. The imprnt was a tag to overcome ("Film X is more than just one of those Merchant Ivory dramas...") rather than an imprimatur of quality and of worthy aspiration.

Maybe that's why I still love the movie so much, almost in the way that mothlike, subservient, unfathomable Ruth Wilcox loves her house. Some properties are worth honoring, defending, and passing to people who will love and understand them. Superficial and soulless imitations need not besmirch the triumphs that inspire them. There is sudsy pleasure to be found in Howards End—more, I'm sure, than many audiences who balk at this genre are liable to guess. Scandalous pregnancies! Swords slicing the air! Emma Thompson finds the vitality in thoughtfulness and intellect, but she's also a plummy entertainer, unafraid to poke fun at Margaret's impetuous glee at writing her own name on someone else's Christmas shopping list. The filmmakers offer more than burnished, elegant maquettes of the past; they relish the pleasures of re-entering the past but are hardly blind to its ironies and perils. The movie swirls with first-person grace notes like Leonard's dollying point-of-view shot as he strides all alone through a heathery field, more of a Wordsworth in his own mind than he is in anyone else's. Sometimes there's so much beauty in the world, he feels like he can't take it. Sometimes there are so many ways to relish a movie—as literature, as portraiture, as concerto, as acting class, as millinery, as essay, as museum piece, as Melrose Place—that I can't figure out why everyone doesn't cherish it.

---