#87: Hands on a Hardbody
---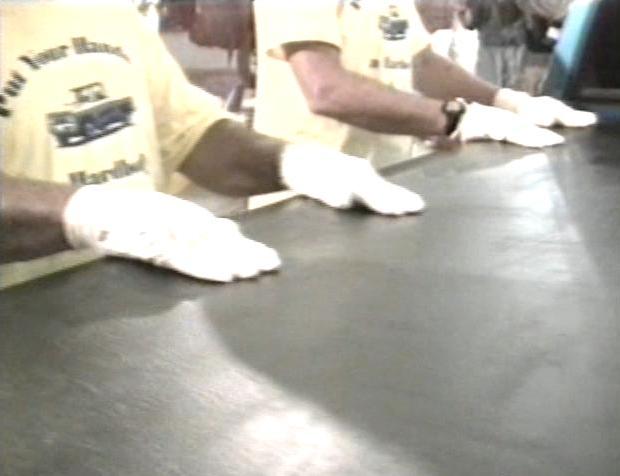 (USA, 1997; dir. S.R. Bindler; cin. S.R. Bindler, Michael A. Nickles, and Chapin Wilson)
IMDb // My Page

Longview, Texas, due north of Houston and due east of Dallas, is the home of the original "Hands on a Hardbody" contest, a deceptively grueling annual rite where randomly selected entrants attempt to win a brand new Nissan Hardbody pickup by outlasting all comers in the ability to stay awake with at least one hand on the truck at all times. No sleeping. No breaks, except a group siesta for five minutes every hour and 15 minutes every six hours. No leaning on the truck to support your weight. No squatting. For the final three contestants, a drug test. Benny Perkins, who won the contest in 1992 after palming the pickup for 87 hours, resented the way that the contest became a local tourist attraction, with people forgetting that "we're suffering, we're hurting." The runner-up from the previous year describes the ordeal as "the best experience of my life," to which the woman who beat him instantly echoes, "Oh, yeah!" A medical professional whom this cheap, simple, do-it-yourself documentary bills only as "Dr. Jereb, Psychologist," describes the 3-4 day Hardbody tournament as "A mystical experience...that transcends this truck that we're all holding onto, transcends our lives." The visual impression of yellow-shirted buzzards caressing their blue metal carrion recedes beneath the gobsmacking emotion that the men and women of the contest have already poured into and onto this apparently protean vehicle.

Even more than the justly famous Spellbound, Hands on a Hardbody poses a ritual competition as a ready-made cross section of American personae, ethics, and needs. Among the rivals in the 1994 contest, which this film records, Greg has entered in a plaintive attempt to recapture the kind of discipline he feels he's lost since his Marine Corps days; middle-aged Russell has put 250,000 miles on his old truck and can't easily afford to replace it; Kelly, should she win, might parlay the truck's resale value into tuition money or orthodontia; Janis Curtis, who has no front teeth whatsoever, thinks this trial will be a good way to prove to herself that she can finish anything she has the will to begin; returning champ Benny, stunned by the serendipity of being chosen twice as a finalist, clearly relishes the aura of the conquering hero; Norma Valverde, a dead ringer for Lupe Ontiveros, confides that "my husband and I have been praying for a truck, and this is what I believe God wants us to do." The Valverdes sold their own truck the day they learned of Norma's invitation to join the contest, and her congregation of 500 neighbors are conducting group prayers on her behalf, with some smaller, singing circles on-site at the contest. Hovering over all of these pathos-laden backstories is the fact that, unlike the spelling bee, the Hardbody contest doesn't become more or less winnable in any evident way as a result of these personal histories. Almost embarrassingly intimate confessions run up against brute physical endurance. A concentric ring of longtime contest-watchers espouse their guesses and critiques—Kelly is taking "smart breaks" eating bananas and fish, while Russell, stupidly outfitted in heavy boots, "has got the attitude, but he's ill-advised." Norma, listening to gospel hymns and recorded sermons on her Walkman, regularly bursts into wild, joyous peals of laughter, which she credits to the Holy Ghost. Antagonisms form. Judges are called into question. In the 48th hour of the contest, 10 of the 23 aspirants are still standing there, bleary, their personalities gradually evacuated, still with their hands slapped on the chassis. They still have a long way to go.

So, fearless renter, presuming you can find this elusive movie—the non-dubbed copies on eBay have run as much as $85—what kind of experience would you like this film to be? Slice-of-life travelogue with sharp regional accents? Genuinely surprising suspense thriller with truly unexpected developments—which, we realize in hindsight, have been carefully insulated by the editing and the character introductions? Cooked-to-order parable of slavish capitalist commodity-worship, tempered by compassionate appeals to each entrant's reason for perpetuating the system? Or how about a rollicking human comedy, soundtracked by Norma's contagious laughter, or country-boy Ronald's improbable fear of thunder, or the contest supervisor's Southern-fried defenses of an impugned judge: "These people are giving their time, and sure, they didn't graduate from the Academy of Hardbody Hands of America, or what have you!" Watch Angie, Texan blossom, carefully using one hand to apply the makeup products she has spread out across her Jackie Collins hardcover. Hear the delirious tales of petting invisible dogs, obeying mysterious voices. Puzzle at why Matthew McConaughey and Benicio Del Toro are both thanked in the credits. "You basically learn the values of humanity, because you see other people fighting, struggling, who want the same thing you want," opines sage-philosopher Benny, who in a less grandiose moment contends, "It's a human drama thing."

---