#77: Faster, Pussycat! Kill! Kill!
---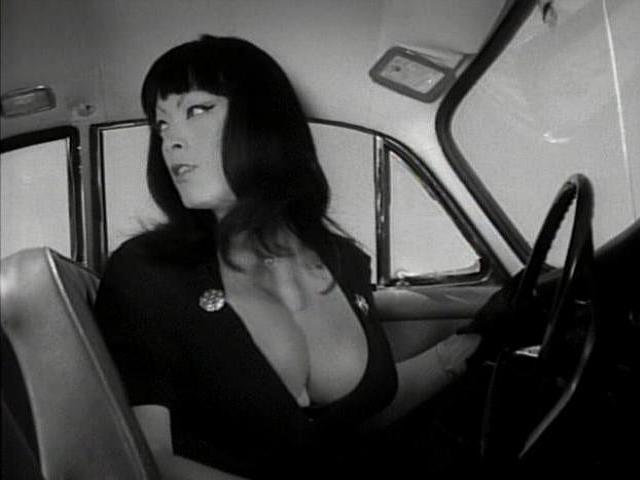 (USA, 1965; dir. Russ Meyer; cin. Walter Schenk)
IMDb // ...for W.; a longer-than-usual entry, but there was no other way...

If the title and the snapshot aren't enough to make you need to see Faster, Pussycat! Kill! Kill!, and I have a hard time understanding why not, here is the opening monologue, intoned by an unseen narrator while the frazzled frequency charts of his own voice jiggle and crackle and multiply across the screen:

Ladies and Gentlemen, welcome to Violence—the word and the act. While violence cloaks itself in a plethora of disguises, its favorite mantle still remains: Sex. Violence devours all it touches, its voracious appetite rarely fulfilled, yet violence doesn't only destroy, it creates and molds as well. Let's examine closely, then, this dangerously evil creation, this new breed encased and contained within the supple skin of woman. The softness is there, the unmistakable smell of female—the surface shiny and silken, the body yielding yet wanton. But a word of caution: handle with care, and don't drop your guard. This rapacious new breed prowls both alone and in packs, operating at any level, anywhere, anytime, and with anybody! Who are they? One might be your secretary, your doctor's receptionist, or a dancer in a go-go club!

This hoary prolegomenon is just as insane as the compulsory nonsense about baying werewolves and mutating genders that commences any number of Ed Wood productions. Yet for some reason, despite the patent awfulness of his performers, the whiplash crudity of several edits, and the head-spinning tawdriness of his framings and fetishes, Russ Meyer is not a viable contender for the worst director of all time. In fact, as longtime readers of this site will recognize, Faster, Pussycat! Kill! Kill!, despite its virtual patent on the concept of gratuitous cleavage, and despite scribbled-out lines of dialogue like "Oh, you're real cute, like a velvet glove cast in iron, and like the gas chamber, Varla, a real fun gal!," and despite its paradigmatically nonsensical plot—about three fast-driving, go-go-dancing murderesses who abduct a screaming teenager in a bikini and then fall into desert warfare with a domestic trio of lunkheaded male neurotics... despite all of this, and actually because of it, Faster, Pussycat! has been holding court on my Top 100 list of all-time great films for close to a decade. Why on earth I have allowed this to happen is one of those questions that this site loves to raise and promptly fail to answer, though it's also one of the pure shots of inspiration behind crafting this second list. And so, it's a question whose time for answering has arrived. Why do I love, why do I esteem Faster, Pussycat! Kill! Kill!? Well: as you know, there are a lot, a lot, a lot, a lot, a lot of horrendous movies out there, with crappy production values and dubious sensibilities and cereal-box "psychologizing," such as endowing characters with a purely gestalt terror of the sound of trains, or with a lingering forgetfulness about keeping the actors' hair out of their faces, or with rear-projection "techniques" that your four-year-old would spot from her carseat. But I would estimate that 98% of those horrible movies are just lazy, grotesquely inept attempts to animate a dismal script, or to put across an insultingly cheap version of what an audience is expected to want (and sometimes, a huge audience does want it), or to make a quick buck out of some kind of brand name, even a truly ersatz one, like Vin Diesel, or the Olsen twins, or the Predator, or Christmas, or, you know, Kids. By contrast, Faster, Pussycat! Kill! Kill!, however full of the unmotivated yelling of lines or of vicious wrestling matches in the sand (the delicious tagline: "Filmed in Glorious Black & Blue!"), is a scintillating ambassador for the kind of Bad Movies that radiate a real, swear-to-God point of view, a realized dream of being just what they were meant to be, an effulgent desire to press its lurid will upon the Cinema.

It isn't just that Russ Meyer wants to study huge hooters, or that he'll haul a crane or an oil derrick into any shot if it provides some cool diagonal lines, or even that he has a delightful disposition for filming high-speed drivers in tight close-up on a canted angle, so that you'd never guess they weren't piloting their own jetplanes. If you want auteurial signatures, you got 'em: Russ Meyer filming any character in long shot, while the left and right sides of the frame are bounded by the legs and asses of tough, menacing broads facing away from the camera, is the trash-culture equivalent of John Ford forever staring out from caves and crevices in The Searchers. But it's more than that: in look and in chintzy execution, you can feel that Russ Meyer actually wants to make this artform three-dimensional, with asses and dust-clouds and breasts and shotguns and exhaust pipes constantly pointing at us at baroque, Touch of Evil angles. He wants, and gets, concentrated explosions of fed-up-to-here fury to rival anything in Shock Corridor, and he gets the soundtrack grinding away at ever-higher decibels as presiding hellcat Varla (Tura Satana; that's her in the picture) tries to kill an oafish hunk of man by pinioning him to his own fence with her '60s-sleek racing sedan. The man's name is The Vegetable. It's a stupid movie, but its delights and its absurdities and its sensory impressions are prodigious. I've probably said this before about some other movie, but it's truer of Faster, Pussycat! Kill! Kill!: it embodies (boy, does it embody) Eve Sedgwick's distinction between Kitsch, which is art that makes you go, "Who in the world would possibly respond to this?" and Camp, which is art that makes you go, "How did they know to make this ridiculous, debased object just for me?!"

There are lots of audiences who may react this way, though I concede that many others would write the movie off as kitsch, or as insupportably dumb, or as misogynistic nonsense (though I do beg to differ, albeit on the movie's limited terms of equal-opportunity overstatement and vacuity). The boob-loving audience is cinched, and Meyer will always be affiliated principally with them, but I'm in the adjacent audience that waits years for a hard-boiled line of dialogue like this one from a dancing racecar vixen with a blonde flip, a rolled-up gingham blouse, and somewhere she's gotta be, except her day is being spoiled by a slow-ass gas attendant who curls his lips around his teeth and looks like Rod Steiger's idiot brother. "We got two more cars to go, 8 Ball!" she sasses, "Don't make a career out of it!" When a crippled but meddlesome pervert-miscreant complains to Varla about being stuck in his wheelchair, she hasn't got time for sympathy: "I THINK YOU SHOULD BE NAILED TO IT!!!!!," and you just know that all five exclamation points are in the script, if only implicitly. Later, some jerk, actually the cripple's older son, a guy who was happy to feel Varla up inside his barn when the time was convenient for him, starts trying to write her off as "sick," just because she's a kidnapper and an aspiring thief, and because she's desperate to run him over with his father's truck. You know the type. Standard @$#%-heel. Varla's rejoinder, hurled out to make even Bette Davis cower: "I was healthy enough a half-hour ago, or do people look different to you when they're not horizontal!!" And the desert looms behind her are as spooky-flat as the one in Carnival of Souls, and the family is as elementally stunted as the one in Texas Chainsaw Massacre, and poor, blonde Lori Williams is such a bad actress that Meyer, serving as his own editor, actually cuts away from her spontaneous reactions to screams and gunshots, because I suspect she wasn't up to real spontaneity.

The all-male version of Faster, Pussycat! Kill! Kill! is called Top Gun, except it has planes instead of cars that are filmed like planes, and it has a faceless, abstracted enemy over the Indian Ocean instead of this loser-trio of phallic opponents, and it has a volleyball game instead of an impromptu WWF match among the characters who are ostensibly friends. People quote Top Gun to me all the time, even people who were born after it came out, but why? Aside from the volleyball and the Righteous Brothers and Kelly McGillis in a big, boxy jacket and that perfume-ad sequence where she and Tommy make out amid the blue light and the blowy curtains, is there anything to really remember about Top Gun? Whereas Faster, Pussycat! Kill! Kill! is an earworm and a brain parasite, and no one but Russ Meyer could have made it. It's a proud, despicable, delicious testament to bargain-basement filmmakers who aspire to render sublime and Platonic their own outlandish failures of taste. I think Meyer succeeded, brilliantly. He made the perfect bad movie. "You don't gotta believe it, honey, just ACT it," screams Varla. On her behalf, I wholly agree, and you can see that she more than walks her own talk. And I would add that you don't gotta admire it, honey, just ENJOY the blazing shit out of it.

---