Proud Mary
First screened in January 2018
---
Director: Babak Najafi. Cast: Taraji P. Henson, Jahi Di'Allo Winston, Billy Brown, Danny Glover, Erik LaRay Harvey, Neal McDonough, Xander Berkeley, Margaret Avery, Rade Serbedzija, Al'Jaleel McGee, James Milord, Jose Guns Alves, Airon Armstrong, Vladimir Orlov, Alex Portenko, Gene Ravvin. Screenplay: John Stuart Newman, Christian Swegal, and Steve Antin (based on an original screen story by John Stuart Newman and Christian Swegal).
---

Twitter Capsule: Wiseauvian. Oh my GOD, you guys. Poor Taraji. More later.

Second Capsule: At sea with rudiments: cutting rhythms, eyeline matches, lighting shots, much less with black people. Just dire. So sad.

Third Capsule: Proud Mary deserves to be Dan Laustsen's Norbit.

VOR: ① Even its welcome impulse to reboot Coffy-era black female badassery starts to seem like a doomed, anachronistic idea. Everything backfires.


---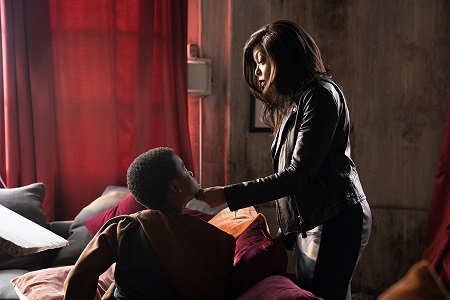 Photo © 2018 Screen Gems


Not yet reviewed in full. Grade: F


---