Hustlers
First screened in September 2019
---
Director: Lorene Scafaria. Cast: Constance Wu, Jennifer Lopez, Keke Palmer, Lili Reinhart, Julia Stiles, Mercedes Ruehl, Trace Lysette, Cardi B, Marcy Richardson, Lizzo, Ashley Neal, Madeline Brewer, Georgia Ximenes Lifsher, Wai Ching Ho, Konstantine Drakopoulos, Dov Davidoff, Devin Ratray, Brandon Keener, Jay Oakerson, G-Eazy, Frank Whaley, Steven Boyer, Alex Breaux, Jon Glaser, Grant MacDermott, Rhys Coiro, Mike Keller, Gianmarco Soresi, Zac Jaffee, Ed Herbstman, Hannah Weir, Stormi Maya, Scarlett Sher, Mario Polit, Paul A. Nielsen, Usher. Screenplay: Lorene Scafaria (based on the New York article "The Hustlers at Scores" by Jessica Pressler).
---

Twitter Capsule: Take my money! Smooth criminals abound: the writer-director, the d.p., the editor, the cast. Joyous but not unreflective.

VOR: ④ A defensible portrait of sex work, broadly defined! A female gaze with studio backing! A delicious, well-crafted, non-franchise commercial hit!


---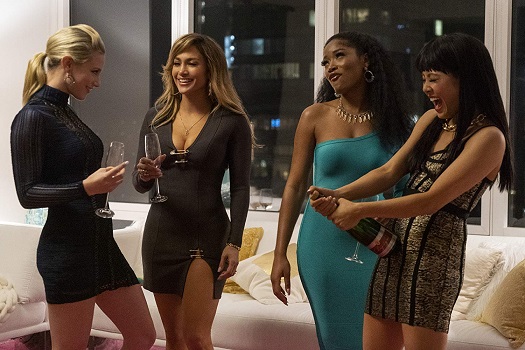 Photo © 2019 STX Films


Not yet reviewed in full. Grade: B+


---