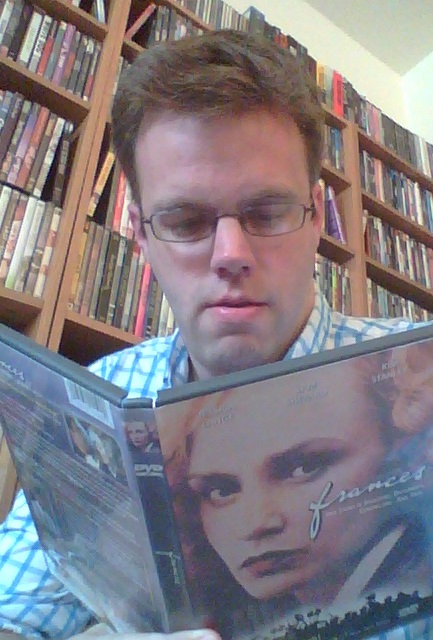 Nick Davis
Associate Professor
Department of English,
Program in Gender and Sexuality Studies,
Northwestern University
Blog / Twitter / Email

Buy my first book!

Guide to my ratings

Optimal on Firefox
Resolution: 1280 x 800

By day, I am an Associate Professor of English and Gender & Sexuality Studies at Northwestern University, where my research and teaching emphasize film analysis and film criticism, queer theory, feminist and gender studies, and 20th-century American literature, including drama. From 2017-2020, I hold the Alumnae of Northwestern Teaching Professorship, my university's highest award for distinguished teaching and curricular innovation. Below is a digest of some of the work I have produced in the more academic side of my life.
Solo-Authored Book
The Desiring-Image: Gilles Deleuze and Contemporary Queer Cinema
© 2013 Oxford University Press, 330 pages

This book theorizes a new model of post-AIDS queer cinema, privileging ambiguous forms and fluidities of sexuality on screen rather than easily legible LGBT identities. Key case studies include films by David Cronenberg, John Cameron Mitchell, Cheryl Dunye, Rodney Evans, Claire Denis, Todd Haynes, and many other filmmakers treated more briefly. Throughout, the argument draws heavily on Gilles Deleuze's philosophical writings on cinema as well as his theorizations of desire, developed with Félix Guattari.

"Excellent and accessible... This is an unabashedly creative book, both in its aspirations and in many of its particulars." — Cinema Journal

"The Desiring-Image contributes productively and energetically to existing discourses on queer sexuality and desire in contemporary cinema, as well as the rapidly growing field of Deleuzian cinema studies." — Screen

"Concrete and accessible, explaining and synthesizing Deleuzian terminology and illuminating key works of New Queer Cinema in ways that renew their promise for critical inquiry, pedagogy, and film culture." — Patricia White

"Impressive, at times startling in its groundbreaking originality, The Desiring-Image will stimulate anyone interested in how cinema produces the desire which shapes the worlds we inhabit." — David Martin-Jones

"Seductive in its intellect and humbling in its prose... Marks an important new entry into queer film studies and film theory more broadly." — Michele Aaron

Chapters in Edited Collections
Close Up: Great Cinematic Performances, Vol. 2: International
eds. Murray Pomerance and Kyle Stevens
© 2018 Edinburgh University Press, 288 pages

This anthology and its companion volume devote themselves to analyzing great screen acting—a topic often ignored in academic film studies. I got to write about Denis Lavant's inimitable work in Leos Carax's Holy Motors... and look, they gave me the cover!

Due for release in February 2018. Available now for pre-order.
The Boys in the Band: Flashpoints of Cinema, History, and Queer Politics
ed. Matt Bell
© 2016 Wayne State University Press, 336 pages

I hadn't seen The Boys in the Band in almost 20 years when I was asked to conceive this piece. I thought I hated the movie, but like many other viewers, I appreciate it much more now that I'm older (and less scared!). My chapter is about how Boys resonates with thematic and formal patterns in William Friedkin's other work, including The People vs. Paul Crump, The Birthday Party, The Exorcist, and To Live and Die in L.A.
Love: A BFI Compendium
ed. James Bell
© 2015 British Film Institute, 160 pages

One review of The Desiring-Image asked why I wrote so much about desire yet so little about love—so I leapt at the chance to participate in this handsome coffee-table collection from the BFI. My chapter offers a quick survey of trends over time in LGBT cinema and LGBT film studies, pausing on movies I skip entirely in my own book: Different from the Others, Sunday Bloody Sunday, A Very Natural Thing, Eastern Boys, and more.
Reading the Bromance: Homosocial Relationships in Film and Television
ed. Michael DeAngelis
© 2014 Wayne State University Press, 328 pages

My essay about Y tu mamá también for this book was the first thing I wrote after The Desiring-Image, so I gave myself the challenges of a) working on a non-U.S. film, b) reading more deeply into the infrastructure of a totally different movie industry, and c) finding a bromance where the female role was more interesting than a plot device. I was proud of this one, and as with all books in this section, the other essays are great, too.
Hollywood Reborn: Movie Stars of the 1970s
ed. James Morrison
© 2010 Rutgers University Press, 272 pages

This assignment is the closest I've come to parlaying a piece from this site into the basis for an academic article. Honestly, I think I expressed myself more clearly in the website version; not everybody has loved the attempt to bring theory into a discussion of movie acting. But I'm happy with what I attempted, writing about the performance styles but also the political activism of Julie Christie and Vanessa Redgrave across the 1970s.
Fifty Key American Films
eds. John White and Sabine Haenni
© 2015 Routledge, 288 pages

Sabine was a new, brilliant faculty member at Cornell when I was studying there. After I finished my Ph.D., she invited me to write about either Dorothy Arzner's The Wild Party, Pixar's The Incredibles, or Ang Lee's Brokeback Mountain for this volume. I chose all three! I was still a young professor. The essays are short and could have been better (and written more quickly!). But I was learning, and it was kind of her to take a chance on me.
The Cinema of Todd Haynes: All that Heaven Allows
ed. James Morrison
© 2007 Wallflower Press, 224 pages

Jim Morrison was an Earth Angel who invited me to adapt a version of my Velvet Goldmine dissertation chapter, just after my disastrous defense and at the all-time lowest point in my confidence. This essay later became a longer and much-improved chapter in The Desiring-Image, but it tickles me now to see where I started. Moreover, I'm eternally grateful to Jim for saving my career... and again, the other essays are delicious.
Essays in Academic Journals
"A History of Sexual Violence: On Rape and Assault as Cronenberg Tropes"
New Review of Film and Television Studies 15.2 (2017): 181-190

Adam Lowenstein at the University of Pittsburgh rounded up an amazing panel of new papers on Cronenberg for the 2016 SCMS Conference, and they generously added me to the group for the printed version of their proceedings. This piece, which foregrounds Shivers, Stereo, A Dangerous Method, and A History of Violence, serves as a kind of hinge between my Cronenberg chapters in The Desiring-Image and my next book about flouted sexual consent in recent narrative cinema.
"The Face Is a Politics: A Close-Up View of Julie Dash's Illusions"
Camera Obscura 86, 29.2 (2014): 148-183

You know Julie Dash from her shimmering, groundbreaking feature Daughters of the Dust, but this black & white short film is just as impressive in its very different way. My analysis of the film dropped out of my dissertation on its way to becoming The Desiring-Image but yielded the talk that got me my job at Northwestern. It only took me eight years to revise it for publication! Having a piece in the feminist media journal Camera Obscura is an ongoing point of pride for me. This may be my favorite of my essays.
"The View from the Shortbus, or All Those Fucking Movies"
GLQ: A Journal of Lesbian and Gay Studies 14.4 (2008): 623-637

As a first-year professor who barely survived my dissertation defense, I was too nervous to submit articles for peer review but did ask GLQ if they wanted more film reviewers. In reply, the then-editors commissioned me to write an essay about all the films in the decade leading up to Shortbus that required non-porn actors to have unsimulated sex. I gladly undertook it without initially seeing a link to my book project. This piece has been praised and critiqued by people I admire, who have taught me a lot.
"Go Tell It on the Stage: Blues for Mister Charlie as Dialectical Drama"
Journal of American Drama and Theatre 17.2 (2005): 30-42

One of these things is not like the others, but this wasn't always clear—quite far into graduate school, I still thought I was going to specialize in African American drama: Adrienne Kennedy, Suzan-Lori Parks, Marita Bonner, Lorraine Hansberry, August Wilson... This essay is the only public remnant of that road not taken, and the enthusiasm of the issue's editor was an enormous boost, so early in my career. Baldwin's play still gets an unduly bad rap from a lot of folks, which I wanted to contest.
---